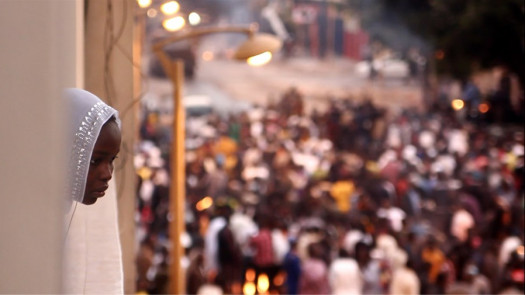 Spread over four days, Moussem and Nova offer a panorama of the work of contemporary Senegalese filmmakers and directors from the Senegalese diaspora. We present autonomously realised work which expresses a great strength and creativity, and a great thirst for artistic freedom.
17:00 The Revolution Won't Be Televised
Rama Thiaw, 2016, FR-SN, DCP, OV FR & ENG SUB, 110'
In her second feature film, director and activist Rama Thiaw documents the resistance to the third mandate of President Abdoulaye Wade. Throughout this account of months of engagement and struggle, the director sketches the portrait of a youth yearning for freedom.
19:00 Compilation Short Films
Sega
Idil Ibrahim, 2018, SN-USA, DCP, OV SUB ENG, 2018, 24'
Sega is sent back to Dakar after a perilous crossing. Confronted with his failures, his beloved and his ghosts, he wanders through the city, waiting to leave again. A moving portrait of a man forced to wander between two worlds.
Marabout
Alassane Sy, 2017, SN, DCP, OV SUB FR, 18'
Actor and director Alassane Sy plays the gentle, taciturn, deceptively maladjusted policeman on his journey through Dakar to investigate the murder of a marabout. A modest, almost silent and burlesque film without any moralism. An ode to childhood.
Regard sur le passé
Abdoulaye Armin Kane, 2018, BE-SN, DCP, OV SUB FR & ENG, 12'
Regard sur le passé is a lively and inventive animated film with stories that take place in and around a square. Unconventional, rich and delightful.
Vagues du COVID 19
Piniang & Kahdija Sembène, 2021, BE-SN, DCP,OV SUB FR & ENG, 4'
A stop motion animation film shot with almost nothing. Inventive and delicate, musing and tender.
Feu Banania
Teemour Diop Mambety, 2019, FR-SN, OV SUB FR, 30'
Feu Banania begins as a meditative, sung poem, and then bounces back and forth between three portraits of artists who set Dakar in motion. Teemour Diop Mambety pokes fun at formats and frees himself from all constraints to make a unique film between a treatise, a poetic tale and a pamphlet.
Tang Jër
Selly Raby Kane, 2020, SN, DCP, OV SUB FR, 13'
In a small tavern in Tangana, Onfaaya serves drinks, steaming kebabs and soup. Various characters, one more amazing than the other, parade before her enraptured eyes. Welcome to the Afro-futuristic world of Selly Raby Kane, designer, fashion designer and director.
21:00 Mille Soleils + Atlantiques
Mille Soleils
Mati DIOP, 2013, DCP, FR, OV SUB ENG, 45'
In 1972, director Djibril Diop Mambety made the film Touki Bouki, about the young lovers Mory and Anta. They share the same dream, to leave Dakar for Paris. At the fateful moment, Anta boards the boat. Mory remains alone on the quay, unable to tear himself away from his country. Forty years later, Mille Soleils explores the personal and universal heritage that Touki Bouki represents.
Atlantiques
Mati Diop, 2009, HD, OV SUB FR, 16'
The floaty, grainy Atlantiques tells the odyssey of a few Senegalese friends who risk their lives on a boat crossing. Melancholic, mysterious and urgent.