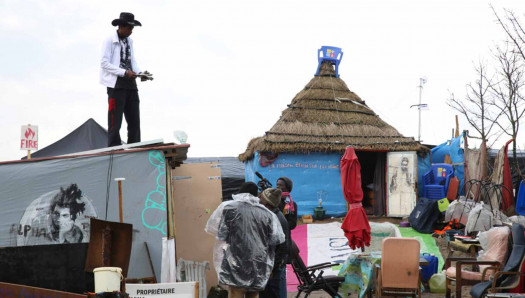 Spread over four days, Moussem and Nova offer a panorama of the work of contemporary Senegalese film makers and directors from the Senegalese diaspora. We present autonomously realised work which expresses a great strength and creativity, and a great thirst for artistic freedom.
17:00 Valdiodio N'Diaye, un procès pour l'histoire
Amina N'Diaye Leclerc, 2021, SN-FR, DCP, OV FR SUB, 86'
followed by a talk with Amina N'Diaye Leclerc
1962.Valdiodio N'Diaye, hero of Senegalese independence, is falsely accused of instigating a coup together with council president Mamadou Dia. In this rich and finely constructed documentary, direct witnesses recount a false procedure orchestrated by President Senghor with the complicity of France.
19:00 La maison bleue + The School of Mutants
La maison bleue
Hamedine Kane, 2020, BE,DCP, OV SUB FR & ENG, 55'
The Blue House is an intimate portrait of Alpha, a charismatic artist who, after ten years of wandering, finds himself stranded in the jungle of Calais. There he transforms his self-built hut into a living work of art. Amid the chaos and political violence, Alpha and director Hamedine Kane share stories about their homeland and create a shared space for poetic expression and resistance.
The School of Mutants
Hamedine Kane & Stéphane Verlet-Bottéro, 2019, BE,DCP, OV SUB FR & ENG, 12'
On a split screen where images of a savage or ruined world enter into dialogue, two voices confront each other. Are the ruins a sign of disaster or of other possibilities?
21:00 Un transport en commun (Saint-Louis Blues)
Dyana Gaye, 2009, FR-SN, DCP, OV FR & ENG SUB, 48'
Un transport en commun is an exciting musical alternating between dialogues, duets, songs and ballets with a host of very different characters on their way to Saint-Louis. But leaving Dakar is a real obstacle course... Lively and playful, funny and tender, a real gem.